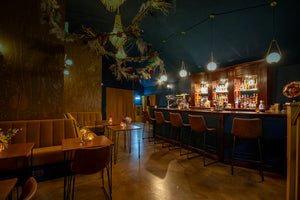 CALL TO MAKE BOOKINGS 0114 299 6827 OR EMAIL hello@true-loves.co.uk

••••••••••••••••••••••••••••••••••

Opening Hours

The kitchen is open until 9pm every day we are open, except Tuesday and Wednesday when it closes at 8pm.
Tuesday: 12pm-8pm
Wednesday: 12pm-8pm
Thursday: 12pm - Midnight
Friday: 12pm - 1am
Saturday: 12pm - 1am
Sunday: 12pm - 11pm

Please book your table in advance to avoid disappointment; however we do have capacity for walk-ins.

If you are unable to book through our online system or just want to guarantee a table for a drink, pop us an email and we'll try and fit you in.
General Enquiries - hello@true-loves.co.uk

Address: True Loves, Arches 18 & 19, Victoria Quays, Sheffield, S2 5SY

•••••••••••••••••••••••••

True Love's focuses on sustainable locally sourced meats, cheeses, pickles, wines, beers, ales, and other produce forming great content for our eat in/takeaway restaurant.
Therefore being as far as possible, a Yorkshire charcuterie and pizzeria.
True Love's name pays homage to the history of the area, a Sheffield poem True Love's Gutter, which featured in a song written by Richard Hawley and that also embraces the comical side in true Yorkshire wit - True Love's a generation old family butchers of the 1800's and their supposed use of the River Sheaf.
You remember the sinks in the midst of the streets;
When the rain poured in torrents, each passenger greets his fellow with,
"What a wide channel is here, We shall all be drown'd I'm greatly in fear."
For lately two lovers were sat on a rail on the edge of the sink fondly telling their tale,
When the flood wash'd them down in each others' embrace,
For no longer the lovers could sit in that place;
And hence "True Love's Gutter", the name that was given,
Because by the flood those two lovers were driven.
James Wills 1827
And so leads us to tell you the rather more tenuous link, a more sinister tale of the butchers named True Love's who used the River Sheaf to dispose of offal, hence 'True Love's Gutter'.
What ever your personal interpretation or romantic ideas and notions that bely our offering we basically serve Yorkshire's finest cured meats, wines and beers, offering small plates and sharing platters for all. With our unique Ver Du Vin we offer wines by the glass and fully recommend our specially curated flights of wine giving you the chance to try a trio of wines.

Honest, humble and independent we hope to serve our local communities, whist promoting the fantastic produce of Sheffield and the broader Yorkshire county of which we are immensely proud.
For those here for a mere sojourn we welcome you all and look forward to inviting you in and letting you take a piece of our beloved Sheffield and Yorkshire away with you for that is our Truest of Love's.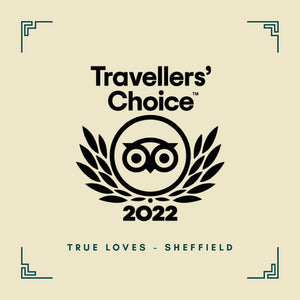 TRIP ADVISOR - TRAVELLERS' CHOICE AWARD WINNER 2022
We're extremely pleased to have been awarded a Travellers' Choice Winner Award from Trip Advisor!